Admiral John Sidney McCain Sr.1
b. 9 August 1844, d. 6 September 1945
Admiral John Sidney McCain Jr.1
b. 17 January 1911, d. 22 March 1981
Senator John Sidney McCain III1
b. 29 August 1936, d. 25 August 2018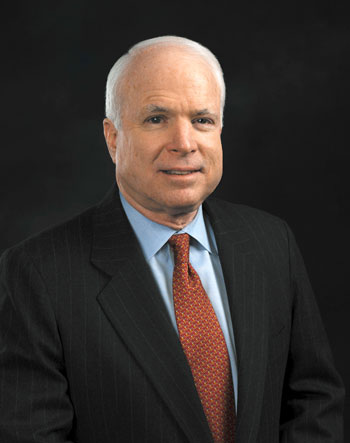 John Sidney McCain III
Senator
John Sidney
McCain
III
was born on 29 August 1936 at
Coco Solo Air Base, Panama Canal Zone
.
1
He was the son of
Admiral
John Sidney
McCain
Jr.
and
Roberta
Wright
.
1
Senator John Sidney McCain III married
Cindy Lou
Hensley
on 17 May 1980 at
Arizona Biltmore, Phoenix, Maricopa Co., AZ
. Senator John Sidney McCain III died on 25 August 2018 at
Cornville, Yavapai Co., AZ
, at age 81. He was buried on 2 September 2018 at
Naval Academy, Anne Arundel Co., MD
.
In his book Senator McCain quoted his grandfather speaking to his own son in Tokyo Harbor during the surrender of the Japaneese: "Son, there is no greater thing than to die . . . for the country and principles that you believe in." The senator then reflected that he had served a purpose greater than his own pleasure or advantage. And for that, sir we are all greatful.